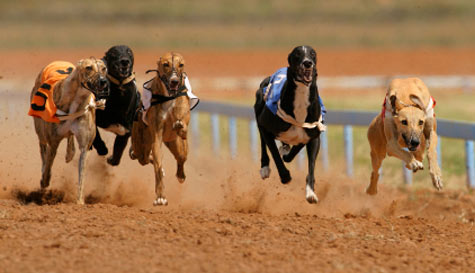 London greyhound racing is fast and deceptively furious. It's a dog eat dog world that sees supreme four legged athletes hitting incredible speeds... and hopefully lining your pockets. It's just like horse racing, but without posh girls in big hats or short Irish blokes in shiny shirts. Racing greyhounds really are furry speed demons and they make for some awesome viewing.

You and the lads will find this out for yourselves when you watch greyhound racing in London on your big weekend. It's a constantly thrilling experience, especially when you and the boys have gone down to the bookies and made a load of random bets without a clue of which dogs are actually most likely to win!

It's a great laugh, and perfect for the first evening of a stag do as it provides top quality entertainment as well as giving you and the lads plenty of opportunities to catch up on all the latest goings on. Plus you can have a little flutter or two. Get it right and it's champagne all night... But get it wrong and it's a swift exit and a stop off a Big Bob's Dodgy Burgers on route back to your hotel so always bet what you can afford.

If you want, we can even arrange a three course meal for you at the track before the racing begins, so you and the lads can tuck in to some delicious food to line those stomachs before that big night out on the town with all your winnings from your evening at the track!

Greyhound racing is a great addition to our London stag party. It's big thrills and even bigger laughs, what more could you want for the grand opening of your stag weekend?