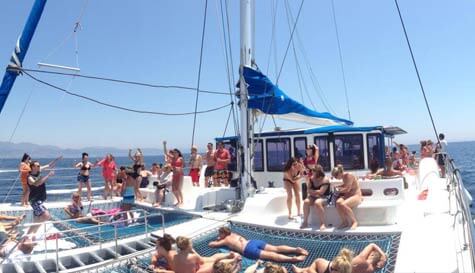 It's fair to say that here at StagWeb we know a thing or two about partying (we've helped over 300,000 guests head to their perfect party destinations) and we can state that the Marbella Boat Party is a fantastic addition to any sun-kissed stag weekend. It's also not a bad place for the lads to rest their hangovers for a few hours.

This impressive catamaran comes complete with a fully stocked bar, a DJ onboard and can hold up to 110 partygoers so there'll certainly be plenty of eye candy laying on deck for the lads to enjoy. Of course, if you prefer nature of the nautical variety, the waters are home to a number of dolphin pods so sightings are common.

You are given 3 drinks each as part of your package, with a choice of beer, wine, sangria or soft drinks. Make sure that you bring your swimwear, as there is no better way to shake off the effects of the night before than to take a swim in the crystal blue waters. You can either perform the perfect Daley-esque (or Ronaldo) dive or demonstrate some top bombing.

As a chance for the groom to blow off some cobwebs and let his hair down with his best mates this really is hard to beat. Good music, good weather, good mates, good times!