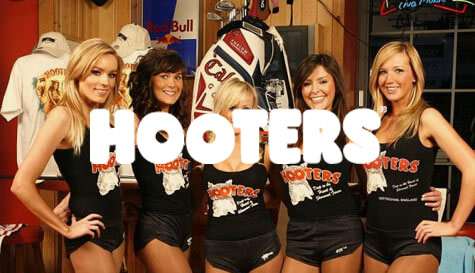 Possibly America's greatest ever export, Hooters is a phenomenal restaurant. It provides all the things men love best, good food, great beer and massive boobs! A perfect venue to kick off your night, Hooters is a great laugh where there's definitely more to have a look at than the decor.

Through StagWeb, you'll be able to book your table in advance as well as pre-pay for an awesome two-course meal. This really is no-hassle stuff that means you and the lads can kick back, relax and enjoy this superb restaurant where you're almost certain to keep buying more drinks and dessert just to get a load of some of the superb waitresses with big jugs and small vests serving ice-cold beers.

And if all that wasn't already enough, we'll include two free beers for each of the stags to get the ball rolling. The food itself isn't half bad either, and you'll have a wide variety of dishes to choose from for both starters and dessert.

The lads will have all surely heard of this amazing restaurant before, and it's sure to live up to all expectations. The American theme makes eating here a unique and memorable experience, as if all the massive jugs weren't already enough to make you realise that this is a far cry from your local burger bar.

This activity is perfect for stags looking to get their Nottingham stag party off to a flying start. Hooters is sure to get that banter train out the station and rolling down the track for the rest of a weekend of madness and mayhem in the midlands. Gentlemen... prepare to party!