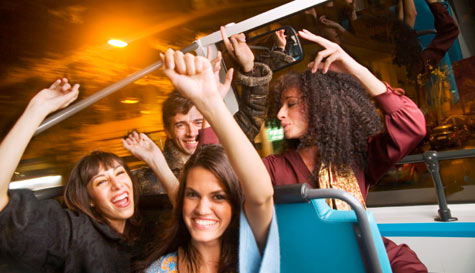 Big weekends call for big plans, there's no use heading to a new city and hoping you'll find some decent bars. Bad preparation means you might miss the best action. We'll take care of all the arrangements. Our Destination Specialists already know the hottest bars and clubs across the UK and keep in touch with the latest new bar openings, hot DJs, club re-fits and we know where the best parties can be found.

And we won't even let you waste time walking.

The boogie bus will be ready waiting for you at a set location, once onboard the good times will roll as the driver takes you to three superb clubs where you'll have one hour to sample the finest beverages on offer. Once the hour is up, simply hop on the bus for the next destination.

In between each stops the buses monster sound system will be knocking out top tunes as you get to know your fellow partygoers.

Finally, you'll head on to a premier nightclub where your names will already be on the guest list. No queues, no fees, no fuss, just instant entry so you and the guys can get onto the dance floor for some stag shapes or you can retire to the bar to scope the 'scenery'.