Bratislava Stag Activities: The Lowdown!
For thrills, spills and sheer range of macho stag adventures, Bratislava stag activities stand awe-inspiring backdrops, punishing courses and a mighty collection of kick-ass weaponry above the rest. If it's high calibre action you want, Slovakia brings the goods in rip-roaring style. Cool accommodation, wallet-friendly nights AND a bunch of lethal weapons you wouldn't even get to look at, never mind get your itchy trigger fingers on back in Blighty. Whatever your power-packed stag pleasure, if you can kick it, shoot it, fire it or race it, you can do it ten times bigger, better and ear-splittingly bolder on a Bratislava stag do.
10 Epic Bratislava Stag Activities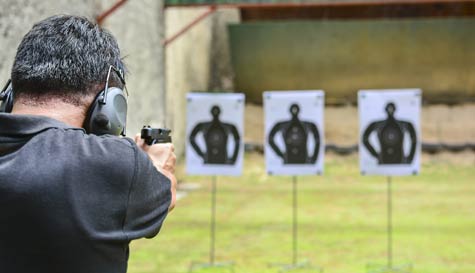 Target Shooting - Feel the force of some awesome firepower! Who will be Top Gun?
Beer Bike - Hit the streets and see the sights aboard your own pedal-powered pub. The greatest transport ever invented!
Go Karts - Go wheel to wheel and get fast and furious in this high speed, adrenaline pumping Bratislava stag activity.
Whitewater Rafting - It's time to head up st*g creek with a paddle. Can you handle this awesome, man-sized stag challenge?
Bubble Football - Take to the pitch for complete sporting carnage. Forget 'the beautiful game', things are about to get ugly!
Hydrospeeding - Possibly the craziest extreme sport ever. Push through the fear factor as you take on white water... without a boat?!?
Paintball - It's time to give the groom a complete Dulux makeover in the ultimate weekend battle. Game on!
Foot Golf - Two of the world's best sports collide in this awesome and slightly crazy sports mash-up. Golf with big balls!
Quad Bikes - The most fun you can have on four wheels without seeing flashing blue lights in the rear-view mirror.
Machine Gun Shooting Get your itchy trigger fingers on some of the most powerful and famous guns known to stag-kind.
Epic Gun-Blasting Bratislava Stag Activities!
Since man first learned how to tie a knot and realised headbands and war paint look much cooler than loincloths and mullets, primal instinct has told him to go forth, take aim aaaaaand…… fire foam pellets from plastic guns. Well guys, here's your chance to get to grips with some seriously high powered fully operational big boy toys. We're talking everything from Magnums to Berettas to Uzis, shotguns and brutal paint filled firearms. For a hefty dose of best man kudos, shooting activities in Bratislava are the absolute pinnacle of European stag action.
Target Shooting - Pick from the same well-stocked arsenal used to train the Slovakian special forces at one of the country's top ranges. Magnums, Lugers, Glocks, Berettas, Desert Eagles… Schwarzenegger, Lundgren and Pacino had their fun, now it's your turn to show 'em how it's done.
Machine Gun Range - With a friendly local to show you the way, expert instructors to show you the ropes, a minimum 50 bullets each to show the rest of the boys who's boss and a celebratory beer to toast the group's hot shot of the hour, why not take it up a notch with some action on the Uzis?
Clay Shooting - A gold star banker time and time again. You know the score - take aim, fire and obliterate more clays than the opposition for those all-important bragging rights.
Paintballing - It's up there with our ultimate stag activities for a reason. Nothing says boys' weekend like a heart-pumping, rip-roaring, all guns blazing charge through the wilderness in a bid for stag supremacy.
A word to the wise though, lads: when it comes to live ammunition, group smart planning is essential: shoot first, beer later. Unsurprisingly our team of (very often armed) instructors take safety VERY seriously and we don't want you to miss out on the event of a lifetime as a result of poor planning. And as for trying to return home to an expectant bride minus vital parts of the man of the hour, well... that really is taking your life in your own hands!
Send a quick enquiry to the team today and we'll help build the itinerary to suit your needs.
Try an Unusual Bratislava Stag Activity!
Bobsleigh - If you need backup reassuring significant others you weren't the only one crazy enough to take on the kamikaze toboggan run, no problem, we'll throw in a couple of mates for good measure. Jump in, sit back and enjoy the ultimate adrenaline-filled ride.
Book your Bratislava Stag Activities with StagWeb!
As with any top destination, we always recommend planning wisely and booking early. Slovakia easily holds its own for 'off the beaten track' adventure, so it's not surprising that this budget-busting gem of a destination is fast rising in popularity among gutsy weekend warriors keen to pack in as much action as possible before rings hit fingers (let's face it, once the deed is done your main man will need his finest stealth moves and military planning to simply make it out of the door for a friendly weekend kick-about, never mind heading halfway across the globe to launch himself down an icy half-pipe).
With more than 11 years' experience lining up top-drawer activities in Bratislava, we know how to make the weekend work for you, from mixing flexible half-day activities to planning top-notch all-day events. And with solid relationships on the ground, you can be sure you'll get the very best for both the boys and the budget.
For a hassle-free, no fuss, no obligation enquiry, send us a brief or give us a call and put us to the test today.