Magaluf represents the ultimate in clubbing resort achievements, in that it's a holiday destination that's just as vibrant and busy during the day as it is after dark! Unlike so many other similar resorts, there's no danger that you'll just be sat around all day, counting down the hours till the clubs open again there's plenty to fill your time. Alright, the nightlife might be the reason you came there are an abundance of top class clubs, after all - but with soaring heats of 25°C in summer, it'd be well worth getting out and into the sun rather than just in the bars or bed. StagWeb has a range of Magaluf stag activity ideas to make dragging yourself out of your post-party slump worthwhile.
9 Trending Magaluf Stag Activities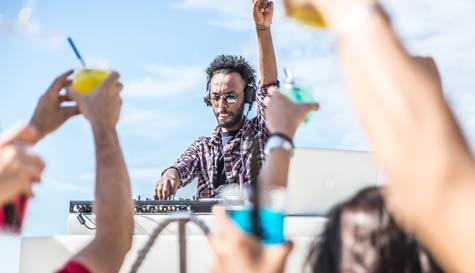 Not just nocturnal
Wherever you go on your stag do, but particularly in a place that's got such a famously incredible nightlife, it's easy to overlook the activities you'll do during the day. Just assuming you and the boys will entertain yourselves is fine, but you'll need a couple of Magaluf stag activities for a brilliant, memorable weekend you'll get a decent night out, but not the sort of stag weekend away that your mate deserves before he shackles down into matrimonial "bliss". We'd always recommend having a few pre-booked activities in place, to prevent you and the lads from spending your entire time away just plonked down by the pool.
Decision time
So the Facebook group has decided Magaluf it is. Now it's time to work out the little details - exactly what are you going to do while you're there? Don't get us wrong, we're huge fans of topping up a tan by the pool for a few hours (no tango tans from bottles for us, thanks), or making waves in the sea, but you can't keep that up all day if nothing else, you'll end up all pruney and weird. Relaxing on a beach is all well and good, but give it more than a few hours or so, and it's less relaxing and more just stagnating. So though you might want to schedule a few hours each morning for soaking up the sun while the hangover wears off, it's well worth getting a few things booked in for the afternoon to make it a world-class weekend, and not just a sunbed with sea air.
Game On: A few competitive activities are always fun with the lads, and nothing beats pitting yourself against your mates and coming out tops. Or, you know, at least putting up a decent fight. Whether you'd rather race rings around them in go karting or paintball hits the spot, a little friendly competition never hurt anyone.
Wet and Wild: You're not going to find seas like the one surrounding Magaluf anywhere in England, so if you've already gone to all the trouble to get there, it's worth taking advantage of a sea that's free of seaweed, six-pack rings, and freezing children. If you want to make even more of a splash, set sail with a booze cruise, or indulge your thrill-seeking side at an Aqua Park.
A decent size package
For the most value with the least hassle, our packages are a great option for discerning stags. Our Med in Heaven package will get you transport to and from the airport, 2 nights in a centrally located apartment, chilled champagne on arrival, VIP champagne reception at a beachfront bar, a 3-hour booze cruise, and a private bar crawl it's your entire weekend sorted in one go!
So why StagWeb?
Finding the right activities for your group at a good value is difficult wherever you are, but when it's an abroad destination it's even worse most people in Magaluf will speak English, but you still can't just call and make enquiries or pop by to check everything is going to plan. Luckily for you, StagWeb has done a lot of the hard work already we've got the best Magaluf stag activities as the best costs, saving you both time and money. It's not just about the savings either we've got a history of excellent service, with one account expert designated to help you from start to finish, and on-call staff available over your weekend in case of emergency. You're not going to get that with most other stag companies.
What next?
If you want to have a chat, call us on 01225 474200, and we'd be happy to run through any questions you have.
Or just send an enquiry, and we'll take it from there.
All calls and enquiries are commitment-free we're not going to be leaving you dozens of messages asking why you haven't called us back, we promise. Just leave us a message, however, you want, and we'll see how we can help you get the best Magaluf stag activities on your weekend.