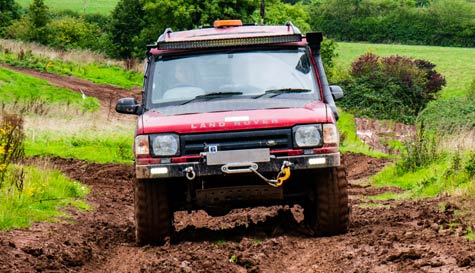 4x4 off-road action is the ultimate macho stag weekend activity and sure to be a hit with the lads. You'll take charge of terrain beating vehicles on challenging treks, forest trails, quarries and all manner of skill courses.

Let's face it, all blokes love cars of one form or another but these suped-up 4x4 beasts are a class apart. With some basic coaching, you'll soon be throwing them around all manner of terrain. However, this is no girl scout outing and there are no easy routes. Get it wrong and you'll be bonnet deep in the brown stuff and either have to wade to safety or wait for the humiliation of being towed out.

This will test both your driving skills and your nerves, and sort the men from the boys in a Stig vs James May kind of way. It's proper stag action, man and machine battling the elements, this kind of dedicated off-road driving is not for the faint-hearted, it's a full-on event.

StagWeb run stag do events at loads of places around Europe so you can rest assured that if you do 4x4 driving with us it'll be at the best possible venue, whether that's in Prague, Marbella or Torquay. Our venues will offer different challenges and your off-road programme is tailored for your group dynamics in your chosen location. This means that if you're fancying a half-day experience near your hometown we can sort that for you, or if you'd rather have a whole day of 4x4 driving further away in Europe we can get that all set up too! If you're looking for action, adrenaline and a first-class time with the guys then look no further than 4x4 off-road driving for your stag do activity!