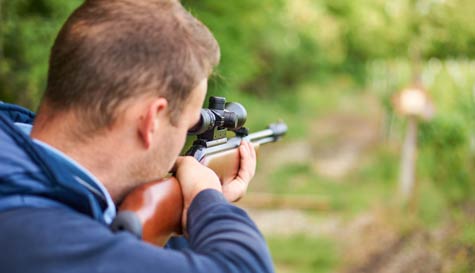 All stag parties need a few basic ingredients to keep all the lads happy; laughs, sporting competition and alcohol. Now while we certainly wouldn't advise you mix the latter of those three with this particular activity (anybody clearly under the influence or still drunk from the night before will NOT be given a gun, to avoid any point-blank buttock/air gun pellet incidents) this really is a fantastic activity for laughs and healthy stag competition ahead of any big night out.

If your groom or group of stags are addicted to Call of Duty or other first-person shooter games, then air guns are a great way to get the lads eyes on the targets and fingers on triggers. Kitted out with telescope sights and state of the art air guns, these ranges will turn you into real sharp-shooters. You'll require excellent hand-eye coordination to hit the targets set out for you by rifle shooting experts on this activity which suits both the newbie and the old hand as you and your friends learn how to hit the target with unwavering precision and accuracy.

Air rifles are an example of the very oldest pneumatic technology in existence and surprisingly the basic principle dates all the way back to 1580! History aside, air rifles are a terrific stag opportunity for all the lads, mixing guns and sporting prowess as you decide once and for all which of your stag soldiers is 'Top Gun' and who is just a lame, sitting duck. This will sort the men from the boys between those destined for Call of Duty greatness and those that will be forever stuck on level one.

You can of course up the ante with a friendly wager on the outcome with pint penalties for anyone who can't hit the proverbial cow's arse with a banjo.