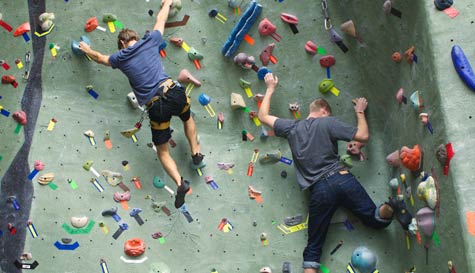 Every stag weekend needs a man-sized challenge. There's no point all getting together, giving the groom a hug and wishing him well, if that's what you think a stag party is, then frankly you should join the hen weekend instead. No, a stag weekend is a chance to get out and do something new. Something a little bit crazy. Push yourself.
Rock climbing is exactly that, a new type of challenge that you wouldn't do during your average weekend. And we'll have everything arranged for you.
You'll be picked up from your accommodation and taken to the climbing wall. You'll meet the friendly team who get you kitted up with helmets and harnesses. Each of the stags will need to find a climbing buddy, you'll then work in pairs, while one is climbing, his buddy will be responsible for his safety rope, to ensure he comes down in one piece. At the end of the session, there's a handy café to get rehydrated or grab a bite to eat after your workout. Finally, your driver will return to take you all back to your accommodation.
Climbing is a great physical workout, it's also a pretty good way of curing any tender stag heads.