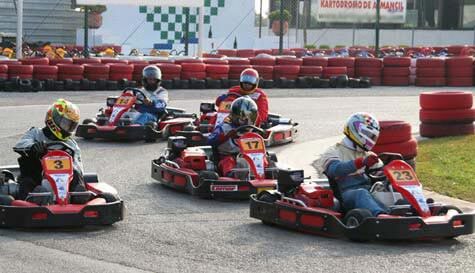 This indoor replica of the Brazilian's GP track featured in our go karts stag party in Albufeira might not be the real deal, but there's nothing fake about the racing thrills you'll get from driving on it. These mini-motors aren't as innocent as they make out to be. At 200cc these karts can really go for it, and on this track, you'll need everything the kart can give you.

At 400 meters in length and with 12 challenging corners to contend with, it'll take a decent amount of racing skill to produce a time fast enough to stand on the podium at the end of your session and of course a whole lot of speed, which at 45mph these Karts have a reasonable amount of for racing of this scale.

After being suited and booted for action, you'll begin your racing. A 10-minute endurance race, sure to separate the men from the boys as in turn you'll each try to prove who amongst you is an aspiring Fernando Alonso and who should really still be driving with L plates. This race will demand the fastest lap times in order to complete the most laps in the allotted time, and remember; only one stag can be crowned the ultimate stag karting champion.

This go karting stag party in Albufeira is simply a must for stags who want to let their inner speed demon loose before getting the drinks in, providing big laughs along the way.