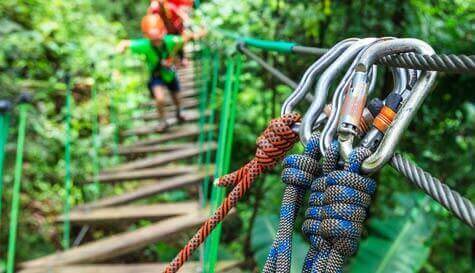 If you're a true stag leader and future party legend (and we believe in you young stag Jedi), then you need to cover the basics:
Pranks for the groom
A ready supply of alcohol
Food, preferably fried and plenty of it
And epic stag do challenges
You also need to be able to scare the 'bejeezes' out of any hangovers and this awesome stag party, high ropes course in Albufeira will certainly manage that. In fact we'd go as far as to say it's possibly the greatest hangover sure on the planet.
At the site the friendly staff will greet you and make sure everyone is in good enough health to be allowed to climb. You'll then get a quick safety briefing and be shown how to 'hook on'. The guys will then be issued with harnesses and helmets. Once you're all ready (having stopped for a group selfie, obvs), its then go time.
The site has 5 different courses for you to tackle at your own pace covering a huge array of obstacles for you and your hangovers to overcome.
Vertical nets
Cobweb
Monkey's bridge
90m Tyrolean span
Ziplines
Rope swings
Rope bridges
Cargo nets
And more
Your group can all work at their own pace or stick together to cheer each other on/laugh at any stags who fall.