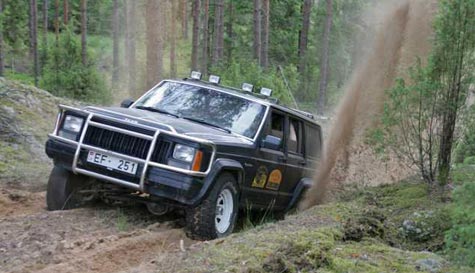 Sightseeing usually brings to mind hordes of old ladies crammed on buses, eating fish paste sandwiches and cramming into the local tourist shop to load up on fudge and fruit cake for the drive home.
But for stag legends like yourselves, sightseeing can be awesome as you make the most of your time, explore the stunning scenery and looking cool as, behind the wheel of one of these bad boys.
You'll begin by being picked up at your hotel by one of our friendly English speaking guides, you'll be taken to your starting point. Here your guide for the day will go over all the safety protocols and rules of the road. Then it's into your Jeeps as you get ready to roll.
You'll head off in convoy through the spectacular countryside. You'll be able to get some superb team photos as well as face some tough driving as you head off-road through orange groves, dense forests of cork oak and experience all the sunshine and amazing scents along the way.
At the end of the session, you'll be dropped back at your accommodation in plenty of time to get ready for another great night out.
Please Note: Anyone wishing to drive will need a full driving license.