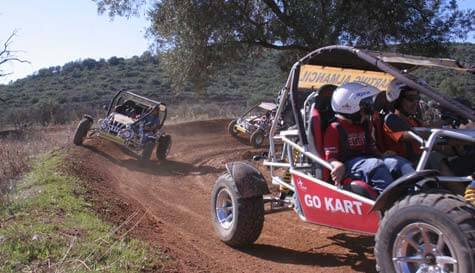 It's time to get off-road and personal! You and the guys will be taking on some of the toughest terrain known to stag-kind in these all-terrain beasts. The fact that they're open to the elements mean you can also work on your tans... Or that could just be dirt thrown up from the stags ahead of you. If you're looking for an adrenalin-fuelled activity, then this landscape devouring safari is the stag activity for you! "Roads, where we're going we don't need roads."

You'll blast your way down mud roads, through valleys and even cross rivers. You'll go through parts of the World Rally Championship course, experiencing similar obstacles that the rally drivers face, albeit at slightly slower speeds, but still a real challenge none the less. Unleash your inner Colin McRae and send clumps of mud flying at the poor stags behind you!

Away from the tourist beachfront, Albufeira has a natural beauty most never get to experience, and there is no better way to see it than from the cockpit of these monster buggies. This is one hour of extreme off-roading, you'll be driving in pairs and sharing one hour driving time each with your buggy-buddy. Although even saying 'buggy-buddy' makes this instantly less cool than it undoubtedly is.

This is just about the most fun you can have on four wheels without seeing flashing blue lights in the rear-view mirror. Away from tourists, no sleeping policemen or speed cameras, just sunshine, mates and extreme driving. "Gentlemen, let's roll!"