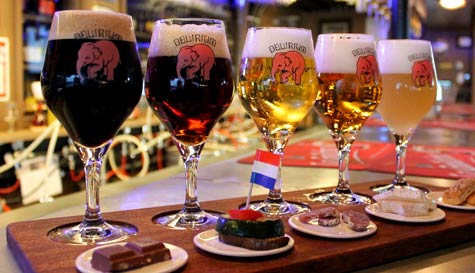 "Beer is proof that God loves us and wants us to be happy." So said Benjamin Franklin. Dutch beer must be proof of how much the Dutch like people to be happy because by Jove those crazy Dutchies are ruddy good at it.

And here's a chance to find out just how good at it they are. Whilst on your Amsterdam stag do, we'll take you to a bar that serves only Dutch beer. Rather a lot of Dutch beer in fact. If you fancy yourself as a bit of a drinks connoisseur or beer aficionado or are simply a fan of malty beverages that are served in pints then you're in for a superb session, sampling some of Holland's finest export (forget clogs, cheese, tulips, diamonds or space cake, anybody who says it's isn't beer should be sent to the corner of the room with 10 litres of Grolsch and not be allowed out until it's all gone, unless it's your nan, she's allowed to say "tulips").

You'll be introduced to a local bar owner who is not only passionate about his ales but really knows his stuff. You'll get to learn a little about beer and brewing, in particular, the European take on how to brew the amber nectar. And of course, you'll get to sample a number of local brews that have a surprisingly diverse range of flavours. It's like a beer school. The host is knowledgeable and surprisingly funny. A real beer education and you'll learn far more then you expect.

Pub Trivia
Holland exports more beer than any other country in the world.
Holland has two breweries run completely by Trappist monks.
If sea levels continue to rise at the current rate the Netherlands will still have plenty of excellent beer!