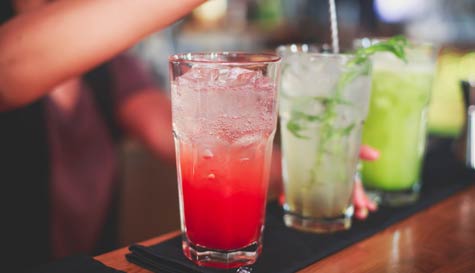 Forget the pink umbrellas and 70's throwbacks. Cocktails are cool again. The biggest cities are now packed with funky bars where bearded hipsters are blending smoke/flame/petrol infused masterpieces (or maybe that should be 'monster-pieces') that are coursing with enough near-lethal alcohol levels that would make even the Rat Pack put down their Rusty mails and take notice. Sinatra, Bond, Brando, Hemmingway, Flynn, while they might have lead the charge, cocktails have evolved and now it's your turn to get hands on and create your own crazy concoctions.
"Sex on the Beach", "Screaming Orgasm", nahhh, as well as learning how to make some classic drinks you'll learn the skills from a master mixologist so you'll know how to create all new weird and wonderful drinks that you can name yourself ("I call it 'Steve's Flaming Love Pump'" or "Grandma's Nightie Lifter" whatever is weird enough to do your strange brew justice).
You'll start by being shown the ropes, learning about the basic bar tools as well as a few secret tricks of the trade. Then you'll get hands on and see how to make a variety of great cocktails which you'll mix yourselves (making sure you taste as you work of course). Our mixologists will teach you the basics of layering flavours and blending different types of liquid and alcohols to create your own cocktails. And of course during the session there will be some competitive spirit (see what we did there?) as you'll go head to head to create the best cocktail.
So raise a glass to the main man in style as you swagger and swig like true gentlemen with a mix of exquisite flavours. Cheers!