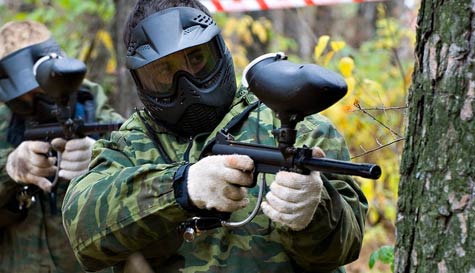 Guns, glory and top-notch banter: these are the key ingredients that make paintballing the ultimate stag party activity, and our paintballing centre in Amsterdam provides the ultimate arena for all-out carnage with your mates.

Forget Call of Duty, paintball is as close to actual combat as a group of groggy, hangover-riddled blokes should ever get. It's also the best place to settle any scores or have a good laugh at someone else's expense:
Stitch up the groom by having a target attached to him at all times or hand him a hi-viz to make sure he can't hide
Gang up on whoever has been stingy about buying the next round
"Forget" to give supporting fire to your mate as he dashes into no man's land
Sit back while everyone else charges into a barrage of multi-coloured paintballs
Situated just outside of Amsterdam, you'll have over 12.5 hectares of dense forest to run around in, waving guns at each other while hatching overly complicated plans that will never work. There are 5 different missions to play through in different game areas of the enormous woodland setting. Don't fancy bounding around in the snow or getting soaked through with rain? Not to worry because there's a 2500 square metre indoor paintball area to battle through as well... just ask and it's yours.
There can be no doubt about, paintballing on your Amsterdam stag do is a sure-fire success.