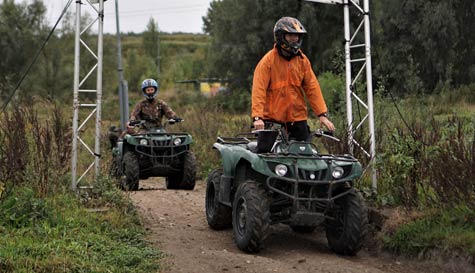 Our quad bikes are a must for any Amsterdam stag weekend. Get a taste of the Dutch landscape the only way real stags know-how - on a four-wheeled driving machine. Tear through this 15-acre course on a 350cc quad, but be warned, this quad bike stag party is reserved for real men only, the Dutch are known for their bizarre twists on what you'd expect and this course is no different.

After some initial training from your own professional guide, you and the rest of your stags will form into groups of three before the first stag tears onto the track, where even the most pedestrian of drivers will experience what happens when man meets machine in this stunning location. Featuring terrain completely unlike anything you've ever driven on before. Huge puddles, steep drops and some frustratingly low hanging trees are more than likely to feature as you cut through this forest trail.

Power through this forested off-road quad bike adventure. Swerving through the trees like Tarzan on a 60mph, off-roading machine at your command. This is the closest you'll ever get to Return of the Jedi's speeder chase through the forests of Endor. An epic afternoon out for any stag party looking for quad bike fun, this activity is certain to finally settle the score amongst stags who fancy themselves as an off-road driving champion, and will definitely show up the 'Captain Slow' amongst you on the day. But don't go too hard on him. After all, you'll want the groom to have at least a shred of vehicular dignity on his big day...