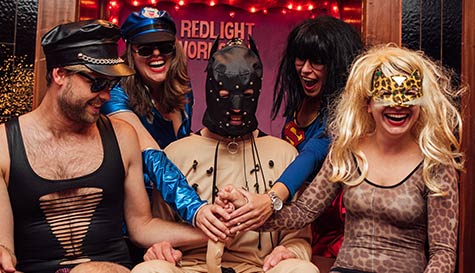 There are stag do pranks and then there are STAG DO PRANKS! Stitch-ups so earth-shatteringly hilarious he'll be having flashbacks and waking up in the middle of the night for weeks to come.
Bordering on psychological torture? No, you can call off Amnesty International, but this is the kind of prank you will all remember for years to come. And the beauty of it is, if you think it feels too cruel then the rest of the guys can join in the fun so the groom doesn't feel completely alone.
The fun begins with a guide and photographer who will take you to the heart of the Red Light District. Here you'll enter what was once one of Amsterdam's busiest brothels on one of the districts busiest streets. Once inside, you'll hear some amazing and frankly eye-watering facts and stories about the building, then it's time to get the groom all dressed up...

There's a huge selection of sexy, raucous costumes for you all to choose from. You can all get in on the fun with up to five of you being able to dress up for a hilarious photoshoot. You can get the groom in all kinds of compromising positions and a photograph will capture the very worst evidence which will be sent to you at the end of the weekend. All pictures will be emailed to you afterwards, always remember the golden rule, what happens on tour, stays off Facebook!
The session lasts for roughly one hour. That's sixty hilarious minutes of striking poses, strutting your stuff and trying on some seriously sexy pieces! As working the camera is thirsty work, you'll also enjoy free-flowing tea and coffee throughout.

If you're looking to pull off a 'Dam good prank, then this is a hilarious, appropriately Amsterdam-esque way to go about it!