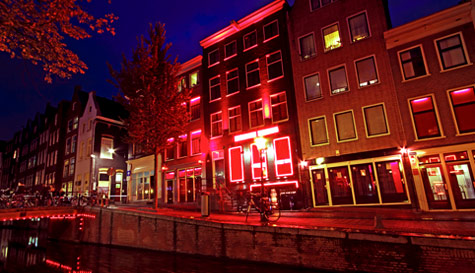 De Wallen in Amsterdam is the world's most famous Red Light District and believed to have been attracting visitors for over 600 years (although very few of the original workers remain). It is a must-see and our stag party Red Light District guided tour will show you around the infamous area and point out sights and curios that most casual tourists miss.
You might be surprised to find the district is not a seedier part of town but a bustling and vibrant part of the city with great bars and shops, many of which just happen to sell the world's oldest trade. Like any major city, it's best not to go walking around in the small hours alone but it's a very safe place to visit with the lads during the day or early evening.
You'll find all kinds of amazing shops and services, like the Condomerie where you can buy all sizes, colours and flavours, even hand-painted condoms. There are also plenty of shows you can enjoy, ask our team about arranging pre-booked entry to some live entertainment. The streets are lined with working girls who display their goods to prospective buyers and the area is great for some banter between the guys and those who work in and around De Wallen (although the first stag to make any obvious "up the back alleys" jokes should be forced to pay a stag forfeit).
It really is a fantastic part of the city and a Red Light District tour is the highlight of any weekend and really is best done with a tour guide to show you the sights and keep the stags out of trouble.
STAG TIP - Do not take photos of the girls in the windows, it's strictly prohibited and can be dealt with swiftly and angrily (you have been warned!).