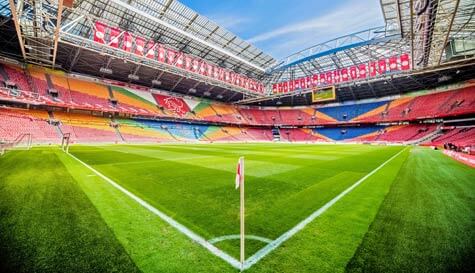 Whether you're Sunday morning pub players, armchair enthusiasts or long-time disciples of 'the beautiful game', a stadium tour is always a great activity when you're away with the lads (let's face it, it's highly unlikely you'll manage to talk the good lady to forego a Saturday shoe shopping trip for the sake of a look around Old Trafford or Wembley).

And the Johan Cruyff Arena is a bit different, as well as being the home to Ajax, one of the heavyweights of European football, it is also the home of the Dutch national team and birthplace of totaalvoetbal. Van Basten, Seedorf, Gullit, Cruyff, Bergkamp, Van Nistelrooy, some of the biggest names in world football have played in Holland's famous bright orange shirts in this venerable stadium.

Ajax's emphasis on youth systems and their pioneering work in pushing youth players to the fore of the football stage have made the club famous around the world. Their blueprint for creating and nurturing young players from rising stars to bona fide legends of the game has been copied and adopted by clubs in leagues across the globe.

From pitchside to the trophy room, the warm-up areas to the changing rooms. You'll also get into the Ajax club museum and get a real sense of the club's football heritage as a part of a nation that produced one of the greatest teams of all time.