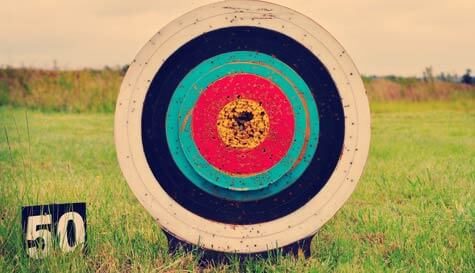 Kevin Costner, Russell Crowe, Errol Flynn, Sean Connery, Jason Connery and even John Cleese (Time Bandits) have played Nottingham's most famous son. But how about your own band of merry men? Are they made of stern stuff, made in Chelsea or just Maid Marion?

Archery is a great addition to any stag weekend, particularly when mixed with other sporting and motoring activities to make a great package of suitably macho stag challenges.

Archery is a skilful sport requiring balance, poise, accuracy, vision, timing and can lead to a great amount of taking the p*** out of those that aren't so much "crack shots" but more erm...

You'll receive some expert instruction in this ancient activity before having a few practice arrows. Its then game on as you battle it out to claim maximum points and bragging rights over your fellow stags. You can set prizes, forfeits or pint penalties among the lads as you see fit.

Stag Fact - In 1314 King Edward II issued a proclamation banning football in London to get more men to return to archery practice "...there is great noise in the city caused by hustling over large balls from which many evils may arise which God forbid; we command and forbid, on behalf of the King, on pain of imprisonment."

It was banned again on numerous occasions by subsequent kings including Richard II and Henry IV to get more men picking up their bows. Even King Henry VIII banned it despite owning the first pair of football boots ever made.