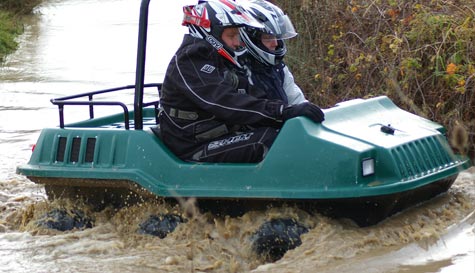 Granted, they're not the most tough and terrifying, rough and ready looking vehicle, but don't let their diminutive stature fool you - Argocats are awesome fun! Essentially baby tanks, they're capable of both powering over land and through water, stopping at nothing in their path, including lost stags. Please keep any stags feeling the effects of the night before from lying on the floor, they're not sleeping policemen and these mad ground huggers won't care as they roll over anything and everything in their path.

You'll drive these multi-wheeled amphibious beasts over some of the most difficult terrain that can be thrown at you, experiencing near-vertical slopes, deep dirt ditches, and an array of muddy waterways. Never fear though, the 'cats' take everything in their stride, going from rough-shodding over terra firma, to swimming through rivers of mud with ease.

It'll be a whole new experience for the lads too, needing their driving skills, sheer power, and a lot of nerve to tackle the track and complete the course. For stags looking for a driving experience that goes beyond just whizzing around a circuit a few times, Argocats can't be missed.


There is a real chance of some tragic wheel spinning and a face-full of soft mud so make sure you have those cameras ready to capture any Rude Tube style driving cock-ups you can instantly share on Facebook. It's one of the joys of Argocats, you'll get to see the rest of the guys driving badly, but they'll also see your attempts so get ready for top banter, epic adventure and potentially a face full of mud.
See More, Do More...
Other activities are available at the superb site so ask our team about adding a second activity at the site at "Double Bubble" rates. You can pack a complete day of challenges, tests and competitions. It's your weekend so you can have it your way, our team are on hand to help you make the most of your budget and get more bang for the big weekend. Put us to the test today with a hassle-free quote.