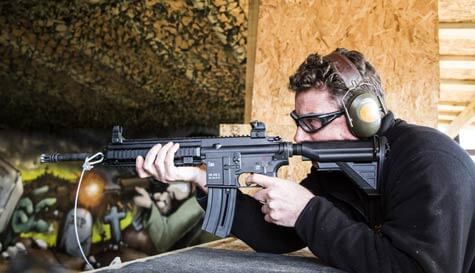 Usually, shooting of this calibre can only be found if you head abroad, deep into Eastern Europe where men are men and stag dos are rife with rifles. StagWeb have never been content to just accept that though, instead always shooting for the moon and setting our sights on bringing the very best shooting opportunities to the lads sticking around the UK. For a long time, assault rifle shooting has been our target... and finally, we've hit the mark, and can now offer lads in Bristol & Bournemouth some of the best, and rarest, shooting sessions available in the UK.

Our UK centres are the perfect place to let out your inner hunter without actually having to do any hunting, allowing you and the lads to get your trigger fingers on a variety of .22 assault rifles, including the Heckler Koch MP5 and 416. Once you've all stopped waving the guns around and posing for your new Facebook profile picture, and the expert instructors have got you holding the rifles the right way, there are a huge variety of interactive targets for you and the lads to ready, aim, fire at... including the awesome sounding exploding firebird targets, and the mutilated zombie dummies.

That's right, you're not just shooting at a bull's-eye here - you're living out all your Resident Evil fantasies.