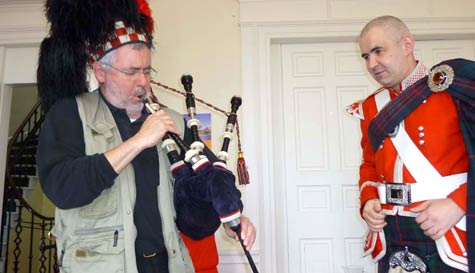 You know-how for years people have said you have no musical talent? It's time to prove them all right! This is a fun and at time hilarious session where all the guys will be squeezing and blowing to raise a tune out of what to many is the most ear-shattering instrument ever invented but is truly the sound of Scotland.
It's the call of armies, the cry of the mountains, the screeching of a spayed cat, love them or hate them, the bagpipes are so distinctly Scottish and the perfect musical accompaniment for a group of guys already suffering from stag weekend hangovers.
During this hands-on workshop, you'll learn all about the history of this iconic instrument, how it works, you'll see the workings of the bagpipes and learn a little about the differences between ancient pies and modern pipes plus a little about tartan and the kilt.
Its then time to get musical as you learn about the types of tunes from traditional airs and military marches, reels and jigs, hornpipes and contemporary covers and rock bands. You'll also get your hands on the Scottish small pipe [please insert your own jokes about the groom here].
You'll get totally hands-on as you blow and squeeze like a lady of the night and with hopefully more musical results, and you'll each have a try with the highland bagpipes. The instructors will happily join in the fun and laughs, while still trying to help all the stags get a musical note or two out of the pipes. There'll also be a wee prize for the day's best piper.
We're not expecting anyone to turn into the Red Hot Chili Pipers straight away, but we do think all the guys will really enjoy the session and you should all achieve some tunes. If you can all master walking in time then who knows, perhaps you'll be the starts at next year's 'Inverness Has Got Talent' finals.