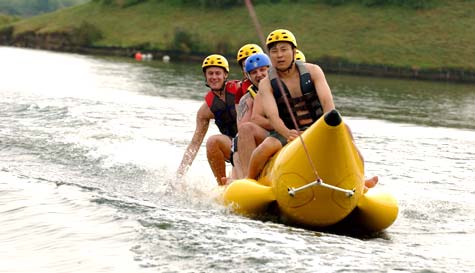 Your party will be towed behind a speedboat for the highest possible speeds and balance-challenging short rides on a crazy, giant, inflatable banana. This stag do activity will test your balance, nerve and ability to face-plant at high speed, as you're pulled along with only the hand ropes to hold onto.

A great all-rounder, banana boating is a superb choice for the stags - especially if you're introducing anyone new to the group. Everyone knows that there's nothing better for getting to know others than being thrown about at a crazy rate of knots and falling into the sea from a huge blow-up banana. Whether you're riding with your boss, your best mate or your dad, the big yellow boat is one hilarious ride.

Get soaked as you speed around sharp corners and find out who has the worst balance simply by seeing who ends up the wettest at the end of the run. Banana boats provide plenty of great laughs plus the added chance that someone (the groom, we really hope it's the groom!) will hopefully fall off in a suitably stupid way that you can capture and upload to Facebook before they've even had a chance to dry off. Because yes, you all want to capture a photo or video of the groom face-planting the water, it's the kind of groom humiliation that stag weekends were invented for.

Thanks to global warming you're not restricted to heading to our Mediterranean destinations, we have fantastic water parks right here in Blighty where you can hang on, fall off, and hit the water at a hilarious speed in seasonable weather ("Grab those budgie smugglers boys!") while under the safe eye of the expert team and boat drivers.

And if when you hit the water you suddenly hear the theme tune from Jaws playing in your head, don't blame this paragraph. You'll be fine "You're gonna need a bigger (banana) boat!"