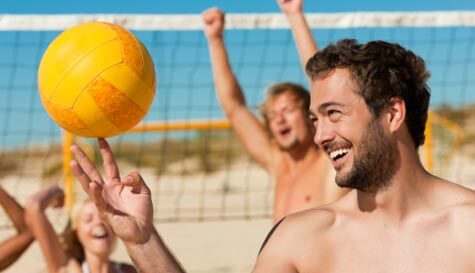 No stag do is complete without a little healthy (or unhealthy) sporting competition. You and the guys will be partying on one of the most stunning Mediterranean beaches with miles of golden sand... which of course means miles of golden senoritas. Well, if you're on the beach there should be some stunning scenery for you to flex your muscles and suck in your bellies.

It's unlikely you'll have packed your own net, football, cricket bat, balls, gloves, Twister mat and selection of beach games so this is the perfect budget-friendly addition to your stag party. There are a number of beach sports we can arrange for you including:
Volleyball
Beach football
Beach batting
Twister
And other suitably weird beach sports.
Of course, it's not simply about winning or losing, it's about the taking part... Yeah right!!! It's all about the winning, you can set your own prizes for the winners, or more importantly pint penalties for the losers. Not only will it give the lads something to compete for, but it also means you can prolong the team spirit, personal agony into your evening as well.

No Barcelona stag do is complete without a trip to the stunning beach, so make the most of this incredible city.