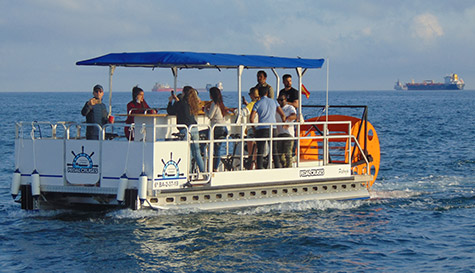 Take to the seas on your very own pedal-powered boozy vessel as you explore the coastal waters stag-style on your big trip to Spain. This brilliant Beer Pedal Boat in Barcelona allows you and the boys to combine a hilariously fun activity with the magical elixir of beer for the ultimate stag outing.
You'll head to Barca's stunning beach where your captain awaits. After a quick safety briefing, you'll don your life jackets and pedal out to sea and enjoy unique, stunning views of Barcelona's coastline from the Med. There's a lockbox on board so you can keep your stuff safe and you're also allowed to bring some provisions out with you, (we know that stags can't sail on empty!).
To keep you and the boys pedalling, you can bring your own tunes and connect your music onboard. Compile a list of the main man's favourite tunes and live the high life as you pedal to the beat. Feel the ocean breeze, take in the sights, and keep hydrated with refreshing beers aplenty. You'll be allowed to choose one litre of your favourite drink to take out to sea, so if beer doesn't take your fancy, soft drinks and Sangria are also available.
It's an ace way to spend quality time with the guys, make the most of the Mediterranean, and try something totally new. It's also a great opportunity to get a bit of exercise in during your boozy weekend. However, if you've got a subscription to your local pub, not the gym, the pedal boats come with an integrated engine, as well as a captain to steer the way, so you can rest assured that your ride will be smooth sailing.
Please Note: If you arrive to the activity intoxicated you will not be allowed to participate for safety reasons.