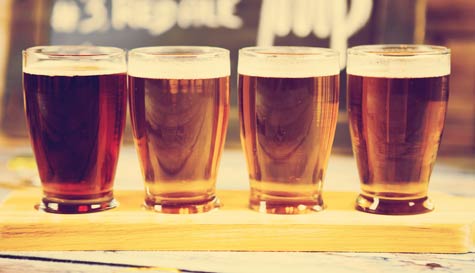 Benjamin Franklin is credited with having muttered the immortal phrase "Beer is proof that God loves us and wants us to be happy." Now we're not about to get into a theological debate but if ever there was proof of a high power then surely beer is it?
This fantastic tour will bring you and the guys one step closer on the route to beer perfection as you learn about the amber nectar and how the Spanish add their own special flavours to the drink of the god/s.
You and the guys will actually get to enjoy a stag up in a brewery as you're taken on a guided tour of one of Barcelona's finest craft breweries by a master brewer (the world's greatest and most important job? Discuss...). You'll be shown the brewing process, learn the perfect ingredients, how it's brought together, optimum temperatures, adding flavours and more. It's perfect for home brewers looking to learn a few tips from the pros. You'll also sample four of the brewery's finest craft beers.
You'll then head through to the brewery's lounge where you can select a refreshing glass of whichever was your favourite beer.
You can also add a meal to your package so you can eat, drink and be merry with a complete brewery package. Benjamin Franklin would be proud.