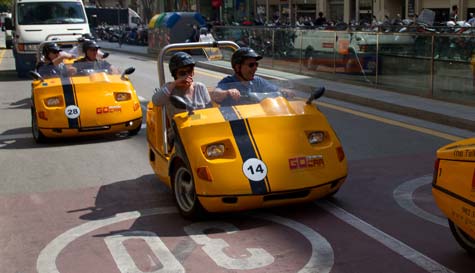 Get behind the wheel of the ONLY way to see Barcelona!!!

Traditionally sight-seeing has always been a pretty dull affair, some guy with elbow patches and an umbrella telling stories about buildings that are no longer standing. But Barcelona has taken the idea of touring the city and created the perfect mode of transport as you get behind the wheel of these super nifty GoCars.

No need for a map, guidebook or that bloke with the elbow patches with these bad boys. Completely interactive it's a great way to really get to see the city away from the bars and clubs as you zip along through the streets of one of Europe's premier cities.

Each bright yellow convertible is built for two which means you'll all head out in convoy with plenty of laughs along the way. The tour will give you a low down on some of Barcelona's amazing history as well as filling you in on all the best sites, bars and restaurants. It's a great way to really get a feel for this incredible party loving city.

It's like the Fast and the Furious meets Noddy, except much more fun and with plenty of ice cool beers waiting for you at journey's end.