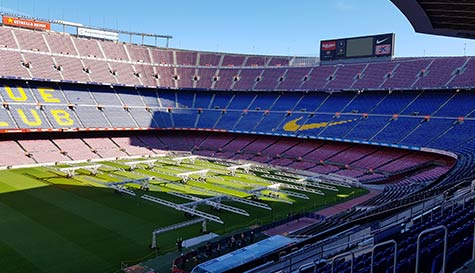 The 'Camp Nou' has been home to epic nights of glory, battles played out by footballing giants and championship-winning Barcelona teams featuring some of the greatest players to ever kick a ball.
Ronaldinho
Messi
Luis Suarez
Neymar
Gary Linekar
Michael Laudrup
Ronald Koeman
Romario
Maradonna
Johan Cruyff
Luis Figo
Andres Iniesta
Now you can go behind the scenes and visit areas previously only accessed by players. This is hallowed turf and one of the Europe's, arguably the world's greatest sporting theatres. And you can see it all.
The tour is done at your own pace and you can spend time visiting the presidential box, press area, changing rooms, you can even walk down the famous tunnel to get a player's eye view of just how it must feel playing in "El Classico". You'll then emerge out to the immaculate playing surface. Messi has sweated on that!
As part of your amazing day, you can also visit the club shop and museum full of some amazing memorabilia, trophies and loads of club facts for football anoraks.
Barcelona is home to Spain's biggest two clubs and arguably the two most respected and successful clubs of all time. While Real are recognised by Fifa as being the most successful club in the 20th century, Barcelona aren't exactly Spurs when it comes to filling their trophy cabinet (sorry Spurs fans, but you know...). Barca's cabinet is bursting at the seams and contains:
La Liga
Copa del Rey
Supercopa de Espana
Copa de la Liga
Copa Eva Duarte
UEFA Champions League
UEFA Cup Winners Cup
European Super Cup
FIFA Club World Cup
Perhaps even more impressive is the fact that every one of those trophies the club has won on more than one occasion, some of them over 20 times!!! And we haven't even mentioned their successful Women's or Youth teams yet.
One of the worlds most famous stadiums, home to arguably the world's greatest team. This is the pinnacle of football stadia and is something any football fan does not want to miss. A team so impressive that during his time there Gary Lineker didn't film any Walkers Crisps ads.