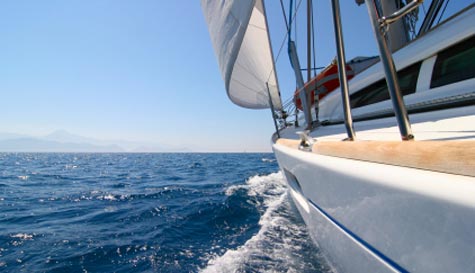 There are many theories about the best way to get over a hangover. Hair of the dog, pints of water, full fry ups... They're all good, but our personal favourite is lying back, enjoying spectacular views of the Barcelona coastline from a sun-soaked catamaran deck as you surf the warm blue sea. What, you haven't tried that one before? Well now's your chance.

Set sail with the boys and ensure an unforgettable day aboard a luxury catamaran. The 14-metre long catamaran is equipped with a music system, so you can pump out some tunes as you sail the high seas. You'll have a superb view of the Barcelona coastline, which is great, right up until you realise you didn't bring anything to drink. But don't worry, we've got it covered, there will be beers, cava, soft drinks and snacks to keep you all suitably refreshed and hydrated.

Cruise charters are normally the territory of only the rich and shameless or Premier League players, so providing the lads with some top draw luxury is definitely a great way to relax and unwind. It's also the perfect tonic for the bridegroom after weeks of often stressful wedding planning. Cracking open a few beers, soaking up the sun and spending a little time with the lads - this is the life and the perfect addition to your Barcelona stag do. You can opt for a 2 or 3-hour cruise.