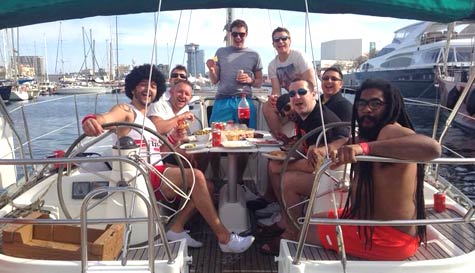 Take the boys for a hangover-clearing afternoon on the waves with our fantastic private yacht charter activity. You'll get the real 5-star treatment, including a spacious yacht, a captain at your disposal, drinks, snacks and mooring. There's no better way to get that true stag VIP feeling than cruising the sunny Spanish coast with your best mates!

Groups of 12 or more people will be on a private catamaran with a capacity of 22 people, groups of less than 12 will be catered for on a smaller yacht. You'll arrive at the harbourside where you can climb aboard your private boat before setting sail over the blue Mediterranean waters. You'll have a private 4-hour boat charter, with the opportunity to get drinks and snacks at the bar, sit back on deck with a cool beer in your hand and set the pace for a fantastic Barcelona stag do.

Blow away any lingering hangovers from a heavy night out on the town with our relaxing private yacht charter. With 4 hours at your disposal, refreshing sea breeze and plenty of vitamin D, you'll be chilled and ready to make last night's mistakes all over again. As much fun adrenaline-fuelled action sports can be, they're not always hangover appropriate so take it easy with this once in a lifetime private yacht opportunity.