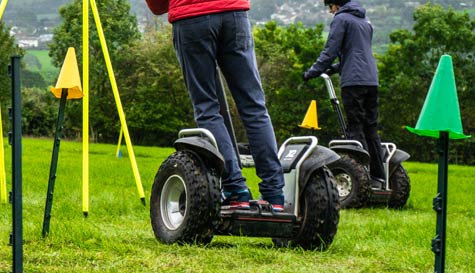 Taking a tour of your destination is a great way to kick off the big weekend, but why be boring and do the usual tourist thing, on a bus, going around the city…. YAWN! No, get off the bus, kick life in the n*ts and jump on a Segway. Because you don't play by the rules (although you're British so you do have impeccable manners and queue nicely, it's in your blood).
On your Barcelona stag do, the normal modes of tour transport just aren't funky enough. Buses are too crowded, walking tours mean too much leg work, no, on your epic weekend, you deserve a truly unique way of seeing the city. So get upright and personal with a Segway. They're really easy to steer, brilliant fun to drive and look cool A.F., especially when you're all whizzing along together like slightly weird and fully upright Hell's Angels.
An English-speaking guide will show you the controls and then lead the way on a tour along the stunning Barcelona coastline. Check out the beaches (and the beach babes) plus great views of the Med. This is a superb part of the city that many tourists forget exists. Well, actually the beaches didn't exist. Barcelona had no beaches at all, they're artificial and all the sand was imported when Barcelona hosted the 1992 Olympics. Yeah, true dat, a handy piece of Q.I. pub trivia to stick in your knowledge bank.
Plus there's the added bonus of maybe seeing the groom fall off! So have those camera phones ready to capture the moment he decides to try and steer one-handed and instead gives you a great moment to post on Facebook and maybe earn £250 from You've Been Framed.