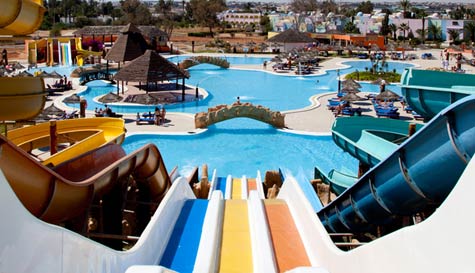 Guess what boys; Barcelona can get pretty hot in the height of summer. Before you know it, you could end up wishing you booked more than one visit to the ice bar, but don't settle for the sweat on your big weekend. On your waterpark day, you'll beat the heat and have a helluva lot of fun doing it.

With a massive variety of water rides and slides, there's sure to be something here to satisfy every lad's need for adrenaline-spiking action. Whether you're barrelling down flumes, screaming your head off on the rides and slides or getting wet and wild in the wave pools and donuts, you'll have a simply epic time.

This is a great way to wash away the previous evening's excesses, and if that killer hangover really is getting the best of you, then there's always some comfy sun loungers where you can soak up some rays and sweat out those troubling toxins.

With a wide range of cafes and restaurants available, you won't be left with an empty stomach either. You can enjoy a brain-freezing ice cream or a hunger-conquering pizza with the lads before handing over the controls to your inner child for an afternoon of waterpark mayhem.

On our waterpark day, you aren't stuck to a timetable. We'll arrange your tickets, so all you need to do is turn up ready for a few hours of fun in the water with your best mates. This is an activity that can be as chilled out or as action packed as you like, and it's a great way to make the most of the Spanish sun before that big night out.