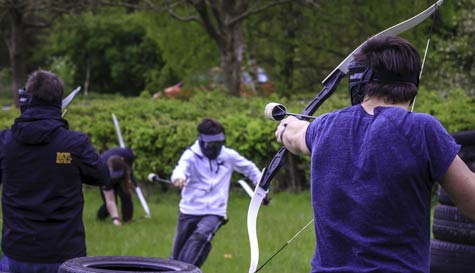 Our Bath stag party archery tag is an action-packed, extreme sport that puts the stags on a direct line to chaos, mayhem and total stag warfare! It's the ultimate stag party fight to the... pub.
The game is fairly simple:
You'll be split into two teams and issued with bows and two arrows each
The teams line in their own battle areas with inflatable bunkers and barricades for safety
Each battle zone also has a set of 5 targets
The aim of the game is to knock out the opponent's targets
Or knock out your opponents
You can get more arrows by picking them up from your opponents
But...
You can also knock out your opponents by hitting them
Each time a player is hit they must retire
You can save your players by hitting the opponent's targets
Each time you hit a target you can bring one of your players back to life
The game is won by either...
Knocking out all 5 of your opponent's targets
Requires extreme skill and teamwork
Eliminating all your opponent
Requires a will to inflict maximum damage
To make things more interesting...
You can also eliminate an opponent by catching one of their arrows in mid-flight
Which also makes you look seriously cool!
Between the two opposing battle areas, there is a 'safe zone' which players can enter to collect fallen arrows. Players are not allowed to shoot into or out of the safe zone. However while in the safe zone it is still possible to get hit by stray arrows making collecting ammo a perilous mission.
Bath stag party archery tag is one of our newest and most hilarious activities yet! Just epic fun that will put all the guy's claims of Call of Duty supremacy to the test. While they might think they're a bit handy while safely tucked in front of a computer screen how will they cope once the arrows start to fly? There's only one way to find out... FIGHT!!!