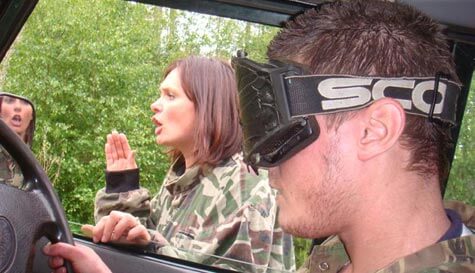 Just like the Top Gear boys, this is your very own driving challenge. Unlike the Top Gear boys you're not allowed to offend the South Americans, get all shouty or punch any passing producers if you're feeling peckish.

Blindfold Driving in Bath is a great challenge for smart thinking stags. You'll be shown around the off-road course and then introduced to the 4x4 off-roaders and their controls. Once you've split into teams it's game on as you attempt to negotiate the course in the fastest time, picking up the fewest penalty points. The kicker is you'll be blindfolded and have to totally rely on the instructions of your teams mates.

Each team member will take a turn behind the wheel and your combined times will decide the winner so this really is a team competition. Just how much can you rely on your fellow stags and are there any numpties who really don't know their left and right?

Best of all is the fact that you'll be able to watch your competitors as they instruct, shout, bicker, fall out and maybe even crash (just a little bit, you don't want them getting hurt but you really want to take the p*** out of them later). It's a superb activity which will create some great competition and banter between the lads.
You could also go double bubble by adding a second activity to your day (fees apply).

Why not add...