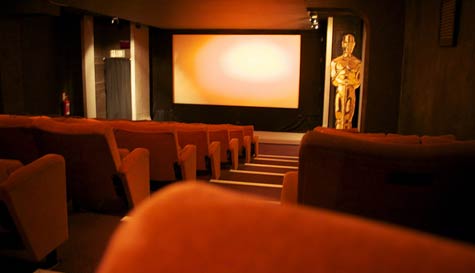 There are very few lads that haven't dreamt of converting their man cave into a full-on cinema at some point, but now you don't have to. You can have your own private screening of the groom's favourite movie* at an exclusive stag party cinema hire experience.
And this isn't just any old movie house but a very exclusive art picture house located in central Bath. Dating back to the 1930s the cinema has an atmospheric art deco feel and can accommodate up to 171 guests so the groom can invite all his mates plus the entire cast of the Muppets (we refuse to be drawn on any jokes about a number of the groom's friends already being 'muppets').
There are two auditoria that can cater for your stag group, one of which comes complete with a balcony that has luxury sofas from which to view the big screen to really give it that VIP feel. You'll enjoy a completely exclusive screening so you can feel free to talk through the movie without someone behind you tutting or telling you to "Shhh!". Or you can quote your favourite lines or sing-along for any fans of Grease.
The second screen holds 72 people and is right next to the cinema's bar. You can pick your own choice of movie (subject to availability) and grab a drink at the bar before sitting down to enjoy the show.
Suggested Stag Movie Titles
Live and Let Stag
Stag Wars Return of The Hangover
The Great Stag Escape
Good Stag Hunting
Shaun of the Stag
Fellowship of the Stags
The Stagshank Redemption
Stag Hard
Stagface
Full Metal Stagit
Raging Stag
Reservoir Stags
The Big Stagowski
The Good, The Stag and the Fugly
The Unstagables
* Unless his favourite movie is Notting Hill in which case confiscate his man-card immediately and organise a hen party instead!