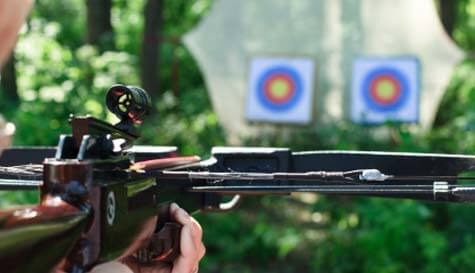 If you're after some real target-based action on your stag weekend, you could do a lot worse than our epic Bath stag party crossbows. You'll discover the raw thrill of firing a weapon that can shoot bolts at distances of up to 10 miles away at high speed, and you'll learn how to be accurate doing so. If you aren't into paintballing or go-karting because you don't like the thought of getting bruised and battered before that big night out (we know the feeling) then this activity is perfect for you. It's the perfect blend of skill and thrill that means that our crossbows stag party can hold its own against any activity you'll do on your big weekend.

When you and the lads arrive at our centre you'll receive a full safety briefing (please don't shoot anybody) before being shown how to get the most out of your personal sharpshooting weapon. Then you'll separate into teams to get ready to compete to find out who amongst you might just share blood relations with Robin Hood and who'd be better off with a rubber band and a paper ball in future. Have a few practice rounds before using up the rest of your shots to take each other on in an epic final competition where you'll finally discover who the true grand crossbow master is.

Our crossbows stag party in Bath is perfect for stags who want to fire a little bit of target fun into their big weekend. For an added competitive edge, why not take along pictures of each other to stick onto your targets? It could be quite therapeutic!
Why not add...
You could also go double bubble by adding a second activity to your day (fees apply).