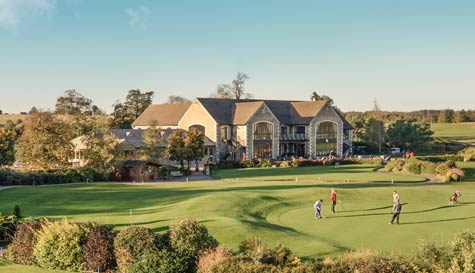 Wiltshire's only 24 holes of Golf course, and home to the Europro tour as seen on Sky Sports. One of the best golf facilities in the South West the stunning course was awarded 4 stars in Golf World's top courses in Britain.
Golf is perfect for any big stag weekend, it gets the guys out in the fresh air so they can take those hangovers for a walk, oxidising the blood flow and gradually bringing them back to life. It also adds some awesome sporting rivalry at a superb location.
Golfers will love the layout of this top-class course and range which offers 45 holes split into 9 or 18 hole courses. The five courses encompass a wonderful blend of rolling countryside, lakes, streams, natural copse and woodland. The resort also boasts a driving range, academy par 3 course and short game area, all covering 400 acres of stunning Wiltshire countryside.
Swing Out Sisters
You can loosen up on the driving range with 10 bays available plus video swing analysis software.
You'll find a superb short game facility with an 1800 square metre USGA constructed green surrounded by three bunkers and seven different tees so you can get your eye in and unleash the Tiger.
There are also two putting greens because if you can't sink it you might as well just sit and shine your shoes.
You can set up your own mini-tournament with the guys and even bring along a trophy to present to the winner. Straight after the game, you can retire to the clubhouse for drinks and/or a spot of lunch. Ask our team and we can arrange everything to be booked in advance for you.