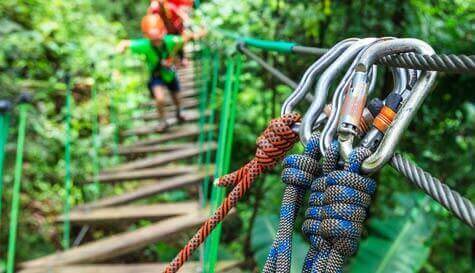 On your big weekend, you might think about taking on an Assault Course or another outdoors adventure like our Somerset challenge or Zombie Survival experience, but there's only one activity that'll literally take your stag party to brand new heights!
Our epic Bath stag party high ropes course is the ultimate in extreme thrills, and it's sure to provide plenty of banter and adventure to keep the lads entertained before that big night out.
This is the perfect day out for adrenaline loving stags, and there's a wide variety of challenges here to suit every lad. If you're bringing the groom's old man along he won't have to worry about any rusty joints getting in the way of all the heart-pumping action.
Our experienced instructors will literally show you the ropes before letting you loose on them. Working together, you'll have to encourage each other to success... or more likely, try to put each other off with a healthy amount of stag insults. If you're feeling competitive, our instructors can split you into two teams and you can go head to head in the ultimate test of your climbing prowess.
On our Bath stag party high ropes course you'll take on five epic challenges that will include:
Jacobs Ladder - You've probably climbed ladders before, but they certainly won't have been as big as this.
Balance Beams - Test your balance on these challenging beams. Will you tiptoe like a gymnast or wobble like you've had one too many in the pub?
High All Aboard - Holding each other's hands might seem lame, but when holding onto one another is the only thing keeping you on top of this narrow high beam, you won't want to let go!
Unsure if half a day is long enough to display your outward bounds mastery? Why not add a delicious BBQ lunch before an afternoon of driving and/or shooting events for a full day of stag action?