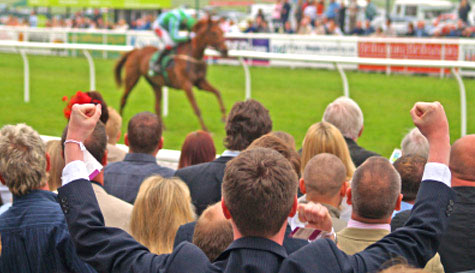 Aaah, a day at the races. Is there anything more gentlemanly? No, we didn't think so. That's why we reckon it's a great idea for you and the lads to go down to Bath's premier racecourse and have an afternoon watching some of the finest racing action in the South West, drinks in hand.

A fantastic addition to any Bath stag party, horse racing will see you and the boys head up to Lansdown racecourse. This track is seriously awesome, located on the top of Lansdown Hill, there are some epic views of Bath to be had as well as the surrounding areas. But while that's all very well and good, what kind of racing action can you expect?

The answer is simple really; only the very best. This course is steeped in history and has a huge variety of exciting race days throughout the year. Horse racing, as we're sure you and the boys already know is a real spectacle, not only because of the high-octane race action but because of the superb betting scene too.

If you and the boys like a flutter, this is the perfect chance to have a punt or two. Just make sure the groom doesn't get cleaned out on the first night of the weekend... he might get whipped more than the horses when the bride finds out! With our Bath horse racing activity, you know you're on to a winner.
Upcoming 2020 Fixtures
Friday 17th April (Evening)
Friday 8th May
Friday 5th June (Evening)
Saturday 13th June (Ladies Day)
Friday 31st July (Evening)
Saturday 15th August (Evening)
Saturday 12th September
Sunday 13th September