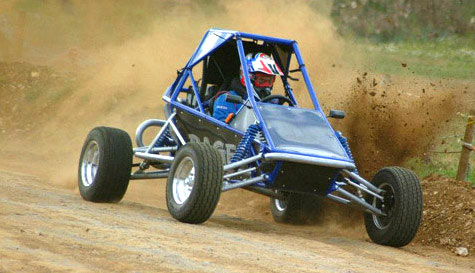 Forget pristine tarmac and perfectly tuned racing karts, there's nothing quite like the feeling of wind in your hair and clumps of mud in your face to shake away yesterday's hangover. Our Bath off road buggies facility will let you indulge your inner rally driver and take an incredibly powerful off road monster out for a spin so you'll get all the thrills without damaging your beloved motor.

With the frankly epic Honda Pilot at your disposal and all of its 600cc, v-twin Honda engineered power available to you at the press of a pedal, you'll struggle to reign yourself in at the corners, which is just as well seeing as these monsters are designed to chew up and spit out cautious drivers. Lauded by petrol head Jeremy Clarkson, these are some of the fastest buggies on the market, with speed, handling and acceleration to boast of, you'll have no problem hitting 50mph on our course.

With all the right equipment, all you have to do is set the best time among the lads in order to claim all the bragging rights for yourself. Losers should be gracious in defeat and keep the winner supplied with pints later on. So hop in to your buggies, buckle up and kick up some serious dust during this epic day of stag mayhem.