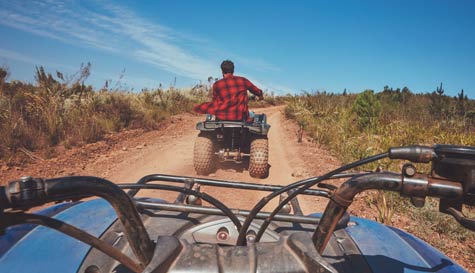 With our quad biking stag party in the city of Bath, you can truly experience the epic thrill of riding a four-wheeled monster machine on an all-terrain, half-mile track that will surely separate the boys from the men. On your 175cc Bombardier quad bike, ride on a vehicle that is larger than the norm-and believe us, on this track you might need it.

An ever-changing, demanding course means that in order to get the best time, and prove that you are your stag party's equivalent of the Stig, you must drive with all the skill and precision of Lewis Hamilton on the final GP of the season. At first, you'll take a few practice laps, which any pro-racer knows is a must for achieving the best times when you're faced with the real thing. Then you and the lads will prepare yourselves for the real deal as you hurtle down one of Bath's most popular tracks.

You and your mates will get the complete quad biking experience with our stag party in Bath, you'll smash through loads of different types of terrain, spraying mud in all your mates faces as you go, and because all the quads are single operator only they won't be able to slow you down, although we do recommend a little bit of caution because you don't want to end up halfway up a tree feeling sorry for yourself.

Truly an epic quad bikes stag party for lads hoping to tear up the West Country landscape on a fully automatic quad bike in Bath, all the bragging rights will be on the line as you race with up to five quads to secure first place and the title of fastest Stag.
Why not add...
You could also go double bubble by adding a second activity to your day (fees apply).