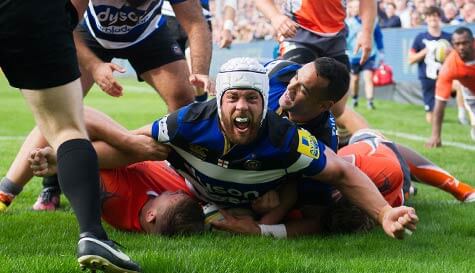 It's a well-known fact, real men have odd-shaped balls. They also don't get paid too much, spend too long doing their hair or fall over because a passing left-back waved at them.
Rugby fans are all about the tough stuff and Bath Rugby Club has been home to some of the toughest tacklers and best players to have graced the English leagues. You and the guys can enjoy some great South Western hospitality at 'the Rec'. Pies, pints and bloody great egg throwing.
One of the most successful English teams of all time, Bath have been littered with top internationals from the Southern and Northern hemispheres. You'll be seeing some of the biggest names in the sport in action as Bath take on a top-class rival.
Not only will it be a great game, it's a great location, right in the centre of bath and conveniently placed near great bars and restaurants. Bath is very much a rugby city, with a huge following packing out all the home games. See this fantastic sport exactly as it should be played at one of the most famous grounds in the country. Bring extra kudos to the stag do if your groom to be is a huge Bath fan.
Weird Bath Rugby Facts
Groomin' Marvellous
On returning from an away match in London in 1899, the players arrived at bath station having picked up two newly wedded grooms along the way.
You're Barred
A weird tradition exists between Bath and Llanelli. Before games a ragdoll is tied to the crossbar, the winning team get to dress the doll in their colours until the next fixture.
Balding
Ian Balding, father of sports personality Claire Balding was a champion steeplechase jockey, world-famous horse trainer and rugby player. He made over 100 appearances for Bath.
Boot Room
Future club president David Trick once spent the night before a game sleeping in the boot of his car. He scored five tries the next day.