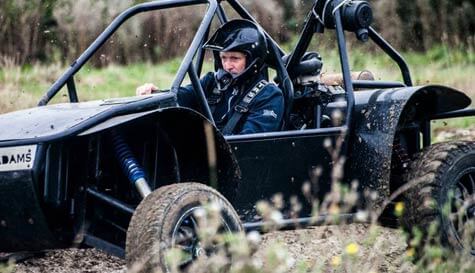 Stag party challenges really don't come much bigger than this, if you're looking for something that really will separate the stags from the boys and give you a complete day of hilarious sporting competition then you can tailor make your own Ultimate Stag Challenge Day by choosing the sports you'd like to try.

Assault Rifles
This is the only site in the UK where stags will get to lay their hands on real semi-automatic assault rifles. Forget Call of Duty, this is the real deal as you get your hands on MP5's, UZI's and H&K 416's as you shoot at bleeding zombie torsos and exploding targets! Read more...

Axe Throwing
Forget darts, if you want to throw something at a target, pick up a Native American Tomahawk. If only pub games were this exciting you'd never leave the pub again! Read more...

Rage Buggies
Like motorised Tasmanian Devils these 620cc, 4 wheel drive bad boys with chew up pretty much any terrain you point them at. Simply the most fun you can have with a helmet on. The event is run as a time trial so all the stags will compete head to head. Read more...

Segway Racing
Take on the Segway Safari, a series of obstacles and challenges while mounted on a Segway. Stags will gain points according to time and the number of cleared obstacles. Mount up and ride for victory! Read more...

Laser Clay Pigeon Shooting
All the fun of the fair but without the aching shoulder. A superb sporting challenge which is all about precision and quick reflexes. Who will be your stag party Top Gun? Read more...

Quad Bikes
Fully automatic 200cc quad bikes. The stag parties chance to get fast and furious around the 450m track. It's wheel to wheel action as you thunder over the course designed for maximum thrills and spills. Read more...

Clay Pigeon Shooting
Your very own stag party big bang theory. If you've never fired a 12 bore shotgun before then you're seriously missing out. It's no wonder that clay pigeon shooting has consistently been one of the most popular stag party activities. "Go ahead stag, break my clay." Read more...

Blind 4x4 Driving
Yeah, just what you need, a group of p*ss taking stags in the backseat giving you instructions, but that's exactly what'll happen. You'll take the hot seat and be blindfolded, the guys will then guide you around the track with only their instructions to get you round in the fastest time possible. Read more...

Exploding Archery
Move over Robin Hood, if you want to see merry men then give them exploding targets. You'll be competing with up to 4 stags at a time shooting at the exploding targets. The greatest game of "arrows" since Phil the Power Taylor hit the gas mains.

Crossbow
With a draw weight of 80 lbs these bows really are deadly. Try to take the prize without turning the groom into a pin cushion (and for safety's sake we would like to point out shooting the groom would be a very bad thing). Read more...

Clay Archery
A superb mash up of archery and clay pigeon shooting, you'll be firing arrows at moving targets fired from a clay pigeon trap in order to score the maximum points. A great sporting competition which is really difficult but brilliant fun.

Paintballing
With plenty of realistic features across the battleground including bunkers, fuel dump, bridges and mortar positions and armed with state-of-the-art Tippmann semi-automatic guns it's time to give the groom a Dulux makeover. Read more...