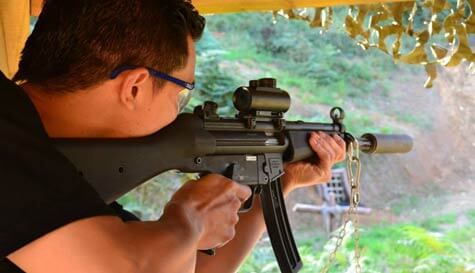 Shaun of the Dead, Cockneys vs Zombies, Waking the Dead... If Hollywood and the TV is to be believed (and just like Homer Simpson we get all our knowledge from the TV) it's just a matter of time before the undead emerge from their all too shallow graves and start eating your neighbours.

If you want to avoid becoming part of a zombie buffet you'll need to sharpen up. It's not easy to make sure you don't get grabbed by the Ghoulies or beat off zombies (stop laughing at the back). This isn't just an epic stag party challenge where you'll learn how to save mankind, this is also your chance to get your hands on some really big weapons (I won't tell you again!) and prepare to kick zombie ass!

Have you and your fellow stags got what it takes to kill the undead... Er... again?

Assault Rifles (30 shots) - With some awesome firepower at your disposal you'll have a range of targets including torsos and bleeding corpses. Weapons may include; MP5, UZI and Heckler & Koch 416.

Axe Throwing - Come off it Shaun throwing your old records won't even give zombie's a headache! If you want to open up your opponents empty head in a single throw you need a something a little heftier. Like a Native American tomahawk.

Crossbow - With a little more killing power than a Take That album, these lethal bows have a draw weight of 80lbs.

Archery - Robin who? If you want to make men merry, give them exploding targets. Boom!

PLEASE NOTE: Lunch is also available on-site at an extra cost. Please ask our team for more details.