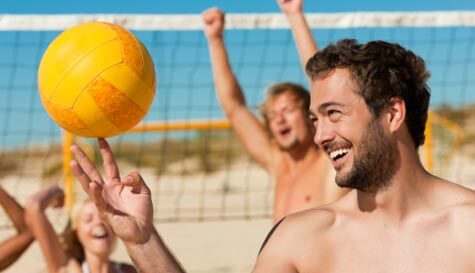 There are certain key ingredients that no good stag do is complete without; Beer, stag competition and shed-loads of stag banter. If you can also add a little fun on the beach then you definitely on the right track to creating a stag do of legendary proportions.
Our Beach Stag Games will get you and the boys down onto the beach to compete head to head in a series of brilliant and often hilarious games and team challenges. Volleyball, zip wires, tight ropes, beach football, BBQ's, surfing, cliff climbing, abseiling, are all on offer in our stag party beach games destinations (games will vary depending on your location)
It's the perfect way to create some healthy competition with the lads, get the banter/insults flowing and crown a stag champion. You can also use the results to award other prizes or set pint penalties. Beach games are also the perfect way to build up an appetite and a thirst for the night ahead. Depending on your chosen destination there will be a BBQ and complimentary drinks on offer.
So set the pace for the ultimate stag weekend abroad and make the most of the fantastic climate and phenomenal coastline.