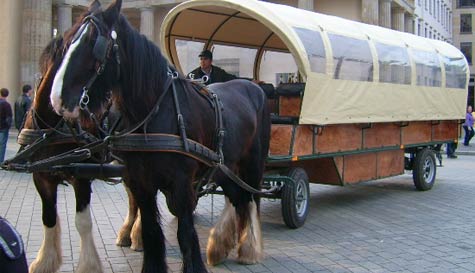 Stag weekends can be a nightmare, there's so much you need to do; take the p*** out of the groom, enjoy some beers, dress the groom up, see some of your chosen city, take embarrassing photos of the groom, do something totally different and just 48 hrs to get it all done (you're like Eddie Murphy, if Eddie Murphy drank cider and told worse jokes). And if you're honest you'd like to do all of the above without actually leaving the pub.
No problem.
Seriously, it's cool, our fantastic Beer Coach will let you and the stags do all of the above and more.
The stag party beer coach is the answer to all your prayers. The fantastic old coach will pick you and the guys up and your driver landlord will steer you in the right direction around the city. This works on so many levels:
Allow you to take great travel photos
Post those photos online
Show people how 'international' you are
You can tell the Mrs "But we did leave the pub, we sent sightseeing and everything."
While still being able to pour yourselves a pint
And there it is guys, on this tour not only do you drink beer, but you pour your own beer! Boom! That's how living is done. Yeah, you're all over this life stuff, playing it like a boss and proving to the guys that you and your beer pulling horsey friends are true stag legends.
Drinking, laughing, having bants... Because that's how you roll on our stag party beer coach!
Please note in Dusseldorf the coach is tractor-drawn.