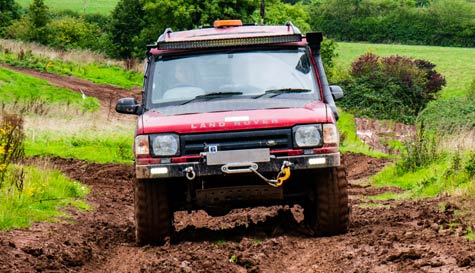 As the ultimate macho stag weekend activity, 4x4 driving is sure to be a hit with the lads as you create your own Top Gear challenge. Our off-road course is one of the best in Northern Ireland and specially designed by experienced off-road drivers for maximum unpredictability and adventure.

The track covers an area of approximately 100 acres and negotiates hills, ditches, sandbanks and waterholes that cater for complete beginners as well as more experienced off-road drivers. You and the guys will head out in two Land Rovers where each member of the group will get the chance to prove their driving skills manoeuvring around our specially designed course, whilst the rest of the lads cling to their seats in the back (or offer their own advice, tips and insults).

4x4 driving provides a chance to participate in an unforgettable adrenaline-boosting activity that is perfect for a group of adventurous lads who like their motors axle-deep in unpredictability. There's a great competitive element as you and the lads see who will come home in the shortest time with least penalty points. So get ready for a great ride to test your driving skill, nerve and ability to ignore the rest of the lads no matter how loud the backseat driving gets.