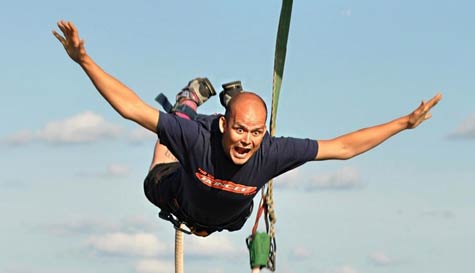 One small step for man, one giant tick on your bucket list. As thrill-seeking, life-affirming, trouser-testing experiences go, bungee jumping really does separate the stags from the boys. Throwing yourself head first off a 160ft drop with only a cord to save you may well be the actions of a complete madman, or it may be the kind of male bonding thrill-fest that was made for a group of hardy stags.

This leap into the unknown really is exactly the kind of stag activity the guys will remember for ever and will certainly get them buzzing. Plus an instant social media upload of the groom screaming his way to terra firma is just what the stag doctor ordered.

Our bungee jumping activity in Belfast is set at the iconic and historic Titanic Centre Belfast. Once given a tutorial and comprehensive safety briefing, you will be taken up to a 160ft platform (located on the slipway where the Titanic itself was constructed just over 100 years ago) and marvel at the amazing views - such as the skyline of the Belfast city centre, the vast Irish Sea and even the coastline of nearby Scotland and of course the MASSIVE drop to the ground. "3... 2... 1... bungeeeeeeeeeee!"